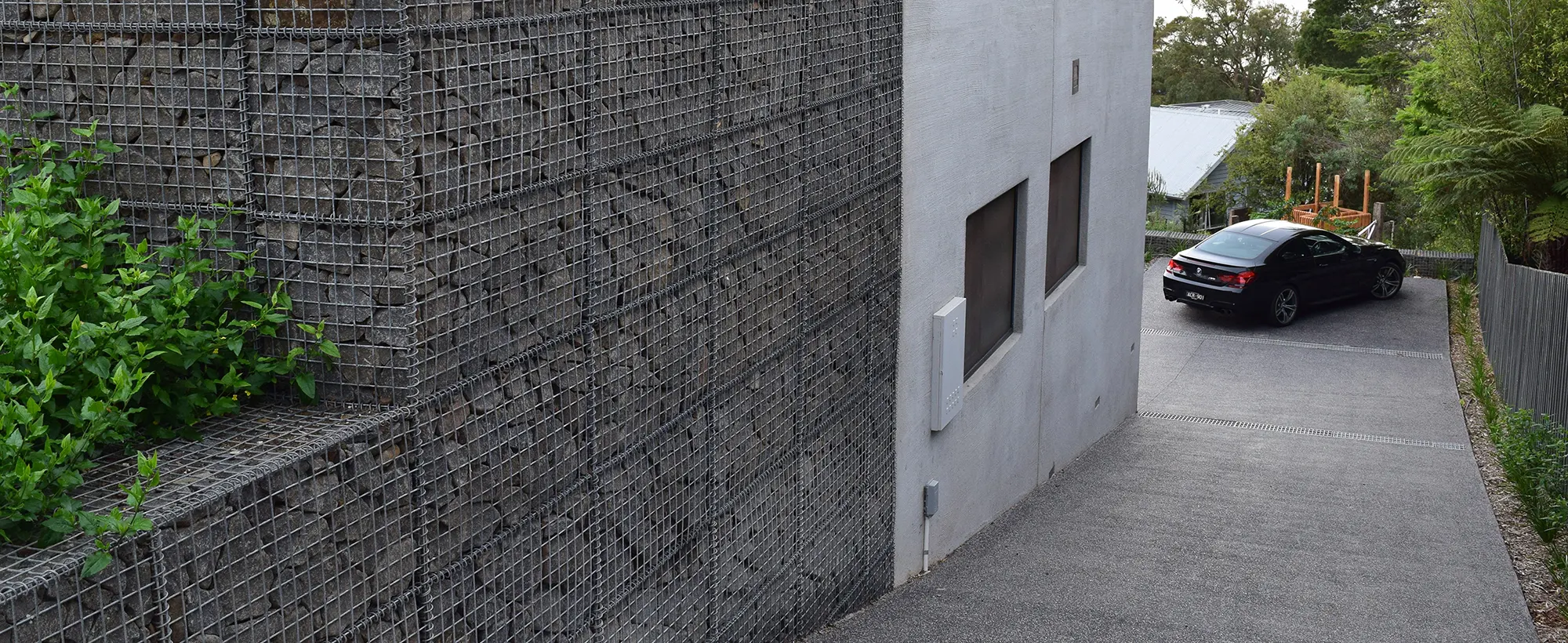 Understanding the rules and regulations of building retraining walls using gabion baskets in Australia can be tricky, confusing and costly if you don't get it right. It's important to know what needs to be done to make sure your retaining wall is in line with regulations yet still performs it's function with the look you want..
For further information on tips and ideas for gabion baskets used in rock retaining walls, check out Gabion Baskets for Rock Retaining Walls.
Do you need council approval?
According to Queensland building regulations, you do not need building approval for a retaining wall if it meets the following criteria:
The total height of the wall does not exceed 1 metre above the natural ground surface.
The wall does not form part of a fence for a pool
The wall is no closer than 1.5 metres to a building or another retaining wall
There is no 'surcharge loading' over the 'zone of influence' for the wall
What is "Surcharge Loading"?
The definition of surcharge loading as defined by the Building Regulation 2006 is:
A load applied to a soil stratum that has, or may have, the effect of consolidating the stratum, other than a load arising only from—
persons or vehicles on, or moving over, the stratum; or
the effects of rain on the stratum
If you're not from the building industry or have experience with this terminology, this may make no sense to you. You're not alone! In other words, surcharge loading can be defined as some sort of load that as already been applied to the earth. An example of a surcharge loading on the earth is where a concrete driveway has been laid. In this example, an extra load (the concrete) has been applied to the earth that is more than normal people traffic or the influence of rain.
An example of surcharge loading on the earth is where a concrete driveway has been laid.
What is the "Zone of Influence"?
The Building Regulation 2006 defines the Zone of Influence is the volume of soil stratum behind the wall that affects the wall's structural integrity. In summary, it is the earth being retained by the wall.
Ultimately, no 'surcharge loading' over the 'zone of influence' for the wall = no extra load on the immediate soil being retained by the wall which might cause the wall to fall over.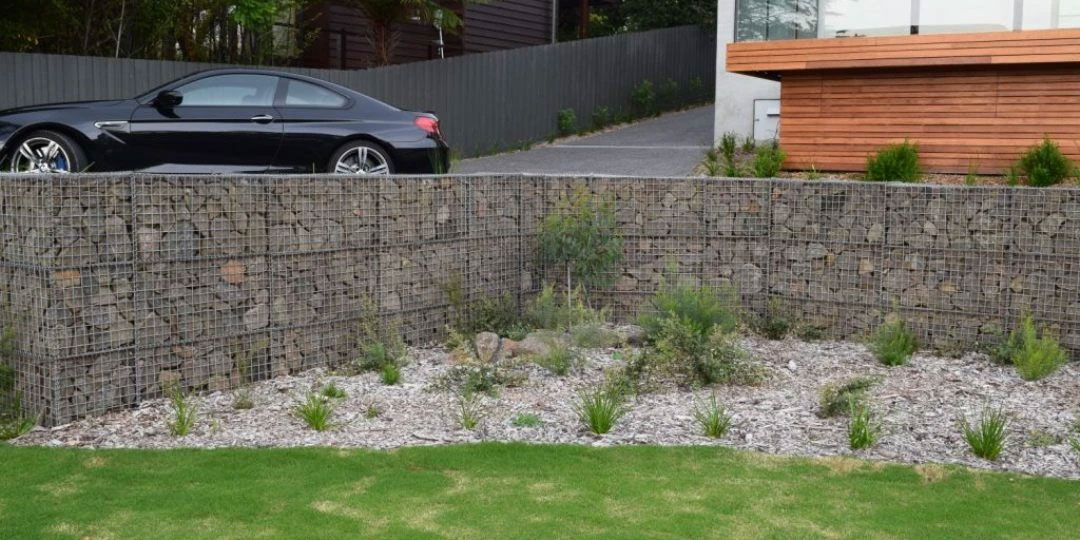 What to do if you require council approval?
If your project doesn't meet the requirements listed above, you will need to prepare a building application then have it approved by a building certifier. The building certifier will require a scaled and detailed plan prepared by a draftsperson or architect.
While there are many excellent architects and draftspeople throughout South East Queensland, it can often be an expensive exercise engaging them to create a scaled plan for a small rock retaining wall. We recommend you making your own judgement call on the size of your project on whether involving an architect is a good idea.
The Brisbane City Council offer a consultant program called riskSMART are able to offer you a quicker, cheaper and more efficient option for low-risk development applications. This can be a good option to keep costs as low as possible.
Using a riskSMART consultant can be a low cost option to certify your rock retaining wall
riskSMART Consultants
RiskSMART consultants are available across a range of disciplines including:
Town planning
Architects and building designers
Builders
Building certifiers
Surveyors
Engineers
Landscape architects
Plumbers
Solicitors
For your project, start with consultants specialising in building certifying. Before engaging an a consultant to work on your project, make sure they can provide the service you need. Make sure they have experience in certifying rock retaining walls and make sure they know the key 4 points on why you need council approval. Check they are registered and insured. This sounds obvious and should be a given but it's still important to double check. It is always worthwhile obtaining 2-3 quotes from similar consultants to ensure you're getting the best deal possible.
What will a Builder Certifier do?
When engaging a building certifier, they take responsibility for assessing whether proposed gabion rock retaining wall complies with the Building Act 1975 and associated standards. To determine this, the building certifier may come to your property for an initial inspection of the site. If there are no issues, they will then issue a building permit for the construction of the wall.
Depending on where your wall is being built, the council has a number of regulations regarding how close it can be built to neighbouring buildings, the boundary of your property and the minimum distance it must be set back from these boundaries. The building certifier can provide you with advice on what is acceptable and what may not be. If you're wall is outside the standard regulations the council will allow, the building certifier can assist you to apply for a "siting variation".
After the rock retaining wall is built, the building certifier will return to inspect and ensure it complies with the approval. For more information you can also visit the Australian Institute of Building Surveyors at www.aibs.com.au for more information.
What is a Siting Variation
A siting variation is a variation form to the council expressing your desire to build your rock retaining wall in an area outside their normal regulations - for example on the very edge of your property.
The Brisbane City Council have a 2 ways to lodge an application:
1. Express Application
This is a streamlined process that provides you with a response from Council within three working days and allows your to submit the application online. Cost to lodge the express application is $203 AUD. You may be eligible to lodge an express assessment if your rock retaining wall doesn't involve any of the following:
The Brisbane City Council have a 2 ways to lodge an application:
a corner lot
small lot
heritage place
easement area
designated waterway corridor
protected vegetation
aspects protected by a covenant
area described by a building location plan.
2. Full Assessment Application
The full assessment application is required if the proposal does not meet the eligibility criteria for an express assessment. Cost to lodge the full assessment application is $709 AUD if lodged online and is assessed within 15-20 working days from application.
Before submitting your application, the Brisbane City Council will require supporting documentation to accompany your application. This may include the following:
dimensioned site plan indicating north point (1:200 scale)
dimensioned floor plans (1:100 scale)
dimensioned elevations (1:100 scale)
contours and ground levels
plans to indicate all building and structures on the property
site photos
Both the express and full assessment application forms can be submitted through the same online form.
Be a good neighbour
It's likely your rock retaining wall will impact your neighbour in some way. It may be as minor as it changes what they see when they look out their back window or major as the becoming the inter-joining fence between properties. Regardless of impact, there's an opportunity for you to do a good deed and let them know what you're doing. Getting on the front foot with your neighbour can alleviate any issues that may arise and work out a way for you both to understand the impact it will have to each other. If you don't know your neighbour, the Council's Contact Centre on (07) 3403 8888 can be contacted for information on the adjoining landowners
For more information on how involving your neighbour in the siting application process can be of benefit, read the councils recommendations here.